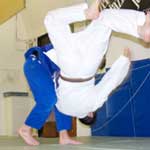 Judo has been an Olympic sport for men since 1964 and in 1992 at the Barcelona Olympic Games is was made an official sport for women.  The following are some of the Albertan Olympians in Judo: Phil Lingworth, Joe Meli, Tom Greenway, Fred Blaney, Keith Morgan and Colin Morgan.
There are 197 member nations in the International Olympic Committee and 182 of them are members of the International Judo Federation.
The Red and White Judo tournament was started by Jigoro Kano in 1884 and continues today as one of the longest running sports events in the world.